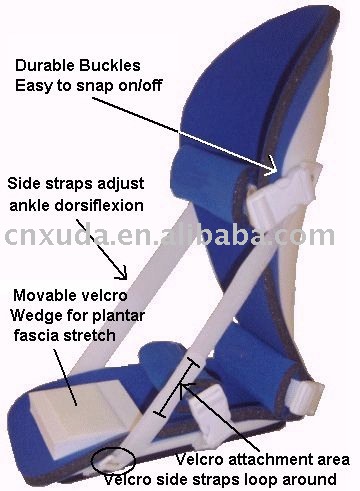 Overview
The deep plantar fascia (plantar aponeurosis) is a thick, pearly-white tissue with longitudinal fibers intimately attached to the skin. Plantar fasciitis, characterized by pain in the plantar region of the foot that is worse when initiating walking, is one of the most common causes of foot and heel pain in adults. A large number of additional disorders can cause foot and heel pain. These include Achilles tendinopathy, Haglund's syndrome, Stress fractures due to osteoporosis.
Causes
Plantar Fasciitis is simply caused by overstretching of the plantar fascia ligament under the foot. So why is the ligament being overstretched? There are different factors, over-use, too much sports, running, walking or standing for long periods (e.g. because of your job) weight gain, our feet are designed to carry a 'normal' weight. Any excess weight places great pressure on the bones, nerves, muscles and ligaments in the feet, which sooner or later will have consequences. Even pregnancy (in the last 10 weeks) can cause foot problems! age, as we get older ligaments become tighter & shorter and msucles become weaker; the ideal circumstances for foot problems, unsupportive footwear, 'floppy' shoes with no support as well as thongs affect our walking pattern, walking barefoot, especially on hard surfaces like concrete or tiles, low arch and flat feet or over-pronation. An important contributing factor to Plantar Fasciitis is 'excess pronation' (or over-pronation). This is a condition whereby the feet roll over, the arches collapse and the foot elongates. This unnatural elongation puts excess strain on the ligaments, muscles and nerves in the foot. When the foot is not properly aligned, the bones unlock and cause the foot to roll inward. With every step taken your foot pronates and elongates, stretching the plantar fascia and causing inflammation and pain at the attachment of the plantar fascia into the heel bone. Re-alignment of the foot should therefore an important part of the treament regime.
Symptoms
A sharp pain in the center of your heel will most likely be one of the biggest symptoms of plantar fasciitis. A classic sign of plantar fasciitis is when the pain is worst during the first steps you take in the morning.
Diagnosis
Your doctor will check your feet and watch you stand and walk. He or she will also ask questions about your past health, including what illnesses or injuries you have had. Your symptoms, such as where the pain is and what time of day your foot hurts most. How active you are and what types of physical activity you do. Your doctor may take an X-ray of your foot if he or she suspects a problem with the bones of your foot, such as a stress fracture.
Non Surgical Treatment
Your GP or podiatrist may advise you to change your footwear. You should avoid wearing flat-soled shoes, because they will not provide your heel with support and could make your heel pain worse. Ideally, you should wear shoes that cushion your heels and provide a good level of support to the arches of your feet. For women wearing high heels, and for men wearing heeled boots or brogues, can provide short- to medium-term pain relief, as they help reduce pressure on the heels. However, these types of shoes may not be suitable in the long term, because they can lead to further episodes of heel pain. Your GP or podiatrist can advise on footwear. Orthoses are insoles that fit inside your shoe to support your foot and help your heel recover. You can buy orthoses off-the-shelf from sports shops and larger pharmacies. Alternatively, your podiatrist should be able to recommend a supplier. If your pain does not respond to treatment and keeps recurring, or if you have an abnormal foot shape or structure, custom-made orthoses are available. These are specifically made to fit the shape of your feet. However, there is currently no evidence to suggest that custom-made orthoses are more effective than those bought off-the-shelf. An alternative to using orthoses is to have your heel strapped with sports strapping (zinc oxide) tape, which helps relieve pressure on your heel. Your GP or podiatrist can teach you how to apply the tape yourself. In some cases, night splints can also be useful. Most people sleep with their toes pointing down, which means tissue inside the heel is squeezed together. Night splints, which look like boots, are designed to keep your toes and feet pointing up while you are asleep. This will stretch both your Achilles tendon and your plantar fascia, which should help speed up your recovery time. Night splints are usually only available from specialist shops and online retailers. Again, your podiatrist should be able to recommend a supplier. If treatment hasn't helped relieve your painful symptoms, your GP may recommend corticosteroid injections. Corticosteroids are a type of medication that have a powerful anti-inflammatory effect. They have to be used sparingly because overuse can cause serious side effects, such as weight gain and high blood pressure (hypertension). As a result, it is usually recommended that no more than three corticosteroid injections are given within a year in any part of the body. Before having a corticosteroid injection, a local anaesthetic may be used to numb your foot so you don't feel any pain.
Surgical Treatment
More invasive procedures to treat plantar fasciitis are usually sought only after other treatment has failed to produce favorable results. Corticosteroid injections deliver medicine into the injured fascia to reduce pain. However, this treatment may weaken the plantar fascia and result in further damage. In addition, extracorporeal shock wave therapy (ESWT) is a treatment where sound waves are sent through the damaged tissue in order to stimulate the damaged tissue and encourage healing. This method is relatively new in treating plantar fasciitis and your doctor will be able to tell you if it is the right method for you. Lastly, surgery is the last option for those suffering from chronic or severe plantar fasciitis.